Application
n-Octylferrocene has been used as a modifier of increasing burning rate in composite solid propellants. It could control not only the curing reaction rate but the burning rate when applied to the burning rate catalyst in HTPB composite solid propellants. It can improve the processing performance and mechanical properties of slurry, and has a good storage performance. It can also be used as oil-saving and smoke-eliminating agent for fuel oils, combustion supporting catalyst for gas, ultraviolet absorbent and photocatalyst etc.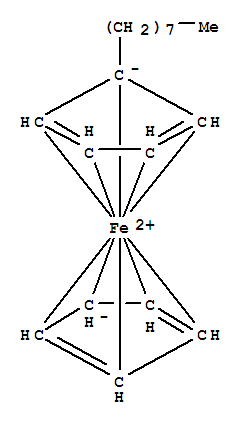 Safety notes
Octylferrocene will be oxidized slowly when it's exposed to air, polymerized in high temperature, and burned if contacting with strong oxidizers.Stored in a cool, ventilated place. Avoid heat and exposure. The shelf life is 12 months after manufacturer date. It is still available if retest result is qualified after expire date.
Transportation and Packing
Keep upright when transported. Avoid violent collision and exposure. Do not transport with strong oxidizers.
Two plastic casks in a wooden case. Net Weight: 10 kg/cask; 20 kg/case.