Product Description
Water filter nozzle is manufactured from stainless steel material or other alloy material. The wedge wire nozzle features non-clogging, high filtering efficiency and economical. It has a wide range of applications in water treatment applications. The different wedge wire sizes and slot sizes can suit different class filtration. Continuous slot design make it high efficiency and long service life.
Type of wedge wire nozzle

According to different applications, the wedge wire nozzle can be divided into two main types, you can choose them according to your requirements.
Single wedge wire nozzle.
Double wedge wire nozzle.
Application
The principle consists of distributing nozzles over a vessel floor so as to control the flow during collection or distribution on a unit basis. Numerous processes utilize floors with nozzles: Water demineralization, Sand filter, Charcoal filter.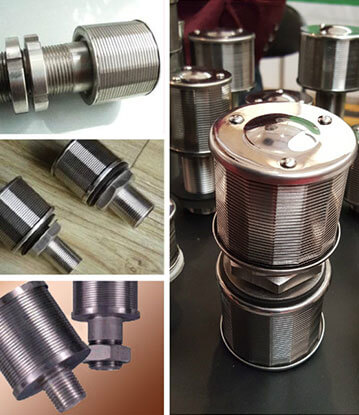 Specification
Filter Layer Standard
Wedge Wire Screen Sand Filter Water Nozzle For Water Treatment
Material
304, 316L
Outside Diameter(mm)
25.4, 33, 38, 50, 57, 76, 89, 105, 117, 130, 850; Special size can customized as customers' request.
Slot size
0.025mm- 6.00mm; Special size can customized as customers' request.
Wedge Wire (mm)
1.0*2.0
1.2*2.5
1.5*2.8
1.8*3.7
2.2*4.5
2.8*5.5
3.4*6.8
Support Rod (mm)
2*3
3*5
2*10
2*15
3*10
3*15
3*25
3*40
3.8*5.5
Length
as customer requirment
Note: Other specifications can be customized according to your requirement.